Jasinski Legacy Non Profit Residences Mission Statement
The Residences of Villa Polonia is a benchmark residential development celebrating Polish heritage, culture and faith. The living experience we strive to create is founded on respect and recognition of resident diversity from a physical, cultural, social and religious perspective.
The Residences of Villa Polonia offer modern, well-maintained, and highly affordable rental apartments for seniors, singles and families of all economic circumstance.
For our predominantly Polish residents, we make an effort to utilize Polish speaking volunteers and paid staff whenever possible, while encouraging bilingualism. We embrace the integration of Parish resources and the Missionary Sisters, to provide onsite counsel and support to our residents. We encourage organized resident leadership and involvement, to help us orchestrate daily activities, special events and operations that are critical to the long-term success of the Villa Polonia community.
We strive to create a strong multigenerational community experience reflective of Polish heritage and faith, while respecting the faith and culture of others.
Development Overview
Villa Polonia is the residential section of the Polish Community's Millennium 2000 Project. This project was championed by the Jasinski Family as a legacy to Stan & Ruth Jasinski.
The property offers 2 residential buildings with 225 units complemented by an attached Jasinski Amenity Center overlooking the beautiful Credit River valley.
Building A (30 Polonia) is our seniors residence (65+) while Building B (40 Polonia) is open to anyone.
Situated between the two residential buildings, Area C (30-A Polonia), is the Jasinski Amenity Center surrounded by: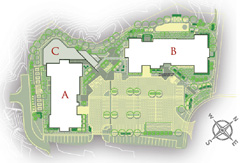 Outdoor benches, patios and pathways.
Garden plots behind 30 Polonia (Seniors Building)
Playground behind 40 Polonia
Amenity Overview
The Jasinski Amenity Center offers residents a central location for fellowship, cultural/multigenerational interaction, physcial/Emotional care & recreation.
The Jasinski Amenity Center is accessed directly from both residential towers and also from surface/underground parking.
For more detailed information about the amenity offering, please visit the Villa Polonia Lifestyle & Amenities tab.
Unit Overview
The Residences of Villa Polonia offers Studio, 1, 2, 3 & 4 Bedroom units.
For more detailed information about residence offerings, please visit the Unit Layouts & Rental Info tab.